Frequently Asked Questions
What can Prolifta do for me?

Prolifta is designed to improve sexual stamina, performance and arousal.

How does it work?

Each of our all natural ingredients have been used independently to promote blood flow, increase endurance, and improve overall health. (see our ingredients page).

When should I take it?

Swallow one capsule just an hour prior to engaging in sexual activity, (though you may begin to see results in as little as 30 minutes).

So, in an hour will I automatically have an erection?

No, the effects are only active during stimulation. So, you don't have to worry about any embarrassing protrusions.

Is Prolifta safe to take with alcohol?

Absolutely! As an herbal supplement, Prolifta does not contain any chemicals that can cause harmful interactions with alcohol consumption.

How much of it should I take?

Dosage should not exceed more than one pill within a 24 hour period.

Are there any age restrictions?

It is not intended for use by anyone under 18 years of age.

Is there anyone who shouldn't take Prolifta?

Those with high blood pressure or any cardiac condition should avoid using Prolifta. If you have any health concerns, be sure to talk to your doctor first.

Where can I buy Prolifta?

You can order through us, click here to go to our buy now page. Or, follow our Where to Buy link to see a list of retailers carrying Prolifta.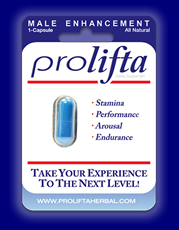 These statements have not been evaluated by the Food and Drug Administration. This product is not intended to diagnose, treat, cure or prevent any disease. Possible side effects may include dizziness, thirst, dry mouth, nausea, vomiting, or diarrhea. Prolifta should not be taken by pregnant women or breast feeding mothers. Consult your physician to discuss any possible unwanted interaction with your prescription medications.
---
This Website is designed for the widest possible access. For best results during your visit,
please use
FireFox 4.0.1
,
Safari 5.0.5
, or
Internet Explorer 9.0.8
, set your screen size to no
less than 1024x768, and install the latest versions of these plug-ins:
Flash 10.3.181.14
,
Quicktime 7.6.9
,
Acrobat Reader 10.0.1